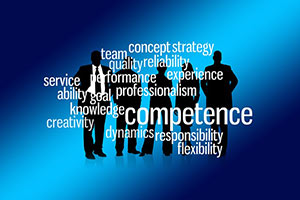 The ways people do business differ considerably. Outsourcing has become a driving trend, while insourcing is fading in the background. Entrepreneurs call outsourcing a privilege, while businessmen define the process a strategic business tactic. So, how do we account for this?
This blog post will provide the stark difference between outsourcing and insourcing, allowing us to settle for the best business practice.
Outsourcing:
Outsourcing is a practice that involves contracting out certain business tasks to third-party agencies, freelancers or consultants either to reduce costs or to optimize the production rate.
As stated in statista.com, the global market size of outsourced services in 2017 was 76.9 billion USD. The survey from Deloitte in January 2016 stated that 78% of respondents felt positive about their outsourcing relationship.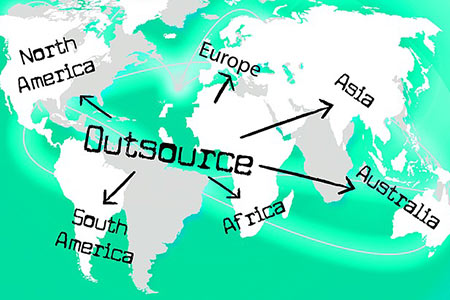 PROS:
Reduced Expenditure:

Organizations can save a great proportion of their capital when they outsource. Infrastructure has become expensive and hiring in-house team requires you to pay them even during training. Such over-head costs can be easily avoided.

Expert Resources On-Board:

It is easier to close the vacancy of the desired candidature when you outsource. You will have access to best talent within the stipulated time and cost.

Risk-Sharing:

You don't have to deal with high employee turn-over rate. By outsourcing certain tasks, you will smartly deal with the risks involved in the absence of resources.

Better Customer-Service:

When you deliver the products/services according to schedule, you are giving customers a good quality service.
CONS:
Risking the Confidential Data:

If you are employing someone across the border for your software services, then you should definitely sharpen your concern about Intellectual property and data privacy.

Not Choosing the Right Partner:

Behind every successful business, there is teamwork. When your outsourced partner is not aligned with your visions and objectives, it means you have made a dead investment.

Dealing with Hidden Costs:

An outsourced business deal across the boundary may prove expensive if you have to deal with the hidden costs.

4X Rule or Delays in Deliverable:

Blame it on the 4X rule if your process is not running smoothly. Delay in delivery might probably due to miscommunication or inaccuracies.
Insourcing:
It is a business practice, where either an in-house resource will be trained or an external resource will be brought into the organization for performing a temporary, but critical business operation.
Based on the 2014 survey results conducted by Deloitte, only 16% of the respondents have moved work back to their province.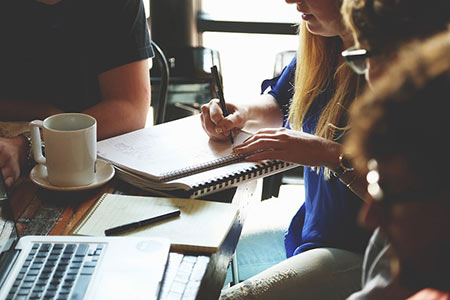 PROS:
Easy to Monitor:

If you are working with a virtual assistant, it would be difficult to monitor their activity every hour. How much they are goal-oriented or dedicated you will never know. But with an in-house team, you have the ball in your court.

Better Knowledge about Business Goals:

It's easier to make your in-house team understand the mission of your business, the work culture, and office policies.

Data Security:

You don't probably have to worry about the IP rights, which is time-consuming and bothering.

Good Communication Model:

You have the advantage of not having to deal with the communication gap that binds with a failed outsourced business process.
CONS:
Finding the Right Talent:
Talent-acquisition is a strategic approach. But if you are a new entrepreneur running a small business, finding the right talent may prove challenging.
Time-Consuming:
In business, time is money. But you have to sacrifice a considerable amount of time just looking for that right talent.
Providing Training:
After a good amount of filtering, finally, you have a resource in your hand, but not up to your expectations. Again you have to either train them or look for a new prospect.
More Expensive:
Training and on top of that a good amount of investment in the infrastructure. A resource alone will not help you run the business. You have to spend on hardware and software tools if required.
Clearly, outsourcing is the winner. Businesses have to take the risks, but again everything depends on the requisites and the availabilities of an organization.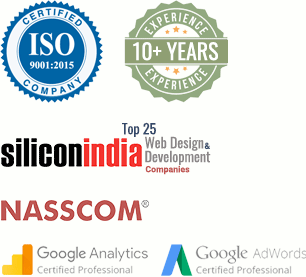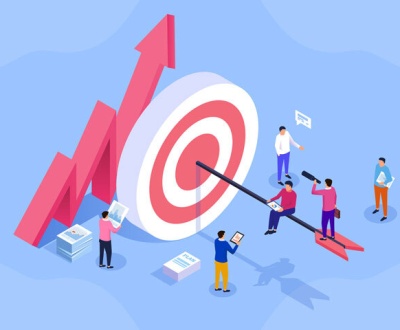 In the modern and rapidly evolving digital environment, businesses are consistently exploring…